Atherton Property Management
We Can Help Manage Your Atherton Rental Property
We offer a full range of property management services tailored to you as an investor, homeowner, or landlord. We have an extensive portfolio with over 300 single family homes, townhouses, condos, and apartments in the Atherton area. "Full-Service" means we specialize in preparation, marketing, administration, and tenant retention.
What we do as your property manager:
---
Evaluate the Property and Determine a Rental Rate
Market the Property
Tenant Application
Move In
Rent collection
Annual and Safety Inspections
Accounting Services
Maintenance, and Upkeep
Move Out
Evaluate the Property and Determine a Rental Rate
Meet at the property, discuss goals, plans, etc. for the property and provide a possible rental rate
Offer recommendations on repairs and cosmetic improvements that maximize potential monthly rent while providing a good ROI
Discuss with owners the pros and cons of different policies such as accepting pets, etc.
Install a lock box
Market the Property
Prepare home for rent

Clean home
Make sure the property is safe and maintained

Create ads tailored to the property and advertising in 50+ locations:

Paid and free rental listing websites
Print publications
Signs
Flyers and e-flyers
Advertise and work with local realtors

Partnered with Google, Apple, Ebay, etc. to insure access to high quality tenants
Meet prospective tenants for showings 7 days a week.
Provide prospective tenants with rental applications that are legally compliant with fair housing laws
Inquire About Our Services
Tenant Application Process
Perform a background check to verify identity, income, credit history, rental history, contact and speak with current landlord and current employer etc.
Notify Owner of applicants and include them in the decision making process.
Move In
Draw up leasing agreement with agreed move in date
Continue to market until deposit is received at the office.
Review lease guidelines with tenant regarding things like rental payment terms and required property maintenance. Grant access to Tenant Portal website.
Ensure all agreements have been properly executed
Perform detailed move in inspection with tenant and have tenants sign a report verifying the condition of the property prior to move-in.
Collect first months rent and proof of renters insurance at move in if not yet received.
Rent collection
Receiving rent
Follow up with late payments
Sending out pay or quit notices
Enforcing late fees
Annual and Safety Inspections
Perform annual safety inspections (inside and outside) on a predefined schedule looking for repair needs, safety hazards, code violations, lease violations, etc.
Send owner reports on the condition of the property
Accounting Services
Provide accounting property management services
Make payments on behalf of owner (Mortgage, insurance, HOA dues, etc.)
Detailed documentation of expenses via invoices and receipts
Maintain all historical records (paid invoices, leases, inspection reports, warranties, etc.)
Provide annual reporting, structured for tax purposes as well as required tax documents including a 1099 form
Advise owner on relevant tax deductions related to their rental property
Provide easy to read monthly cash-flow statements which offer a detailed breakdown of income and itemized expenses
Maintenance, and Upkeep
Establish a preventative maintenance policy to identify and deal with repair needs
Provide a network of licensed, bonded and fully insured contractors who have been vetted for good pricing and good work that is up to code.
Assign jobs to different parties (in-house employees, handyman and professional contractors) based on who will do the best job for the best price.
Maintain and Provide Gardening Service (owners expense)
Maintain and monitor a 24 hour emergency repair hot-line
Larger renovation or rehab projects

Provide recommendations on how the project can maximize rental income.
Prepare preliminary cost estimates
Get multiple independent bids for the work
Act as general contractor overseeing the work
Move Out
Inspect unit and fill out a report on the property's condition when the client moves out
Provide tenant with a copy as well as estimated damages
Return the balance of the security deposit to the tenant
Forward any portion of the owner's portion of the tenant deposit to the owner or hold in owner reserves for repairs
Clean unit and perform any needed repairs or upgrades
Re-key the locks
Put the property back on the market for rent
Testimonials
---
" I only have high praises for Don. He is highly knowledgeable in rental and real estate properties. He was easy to work with. He went out of his way to help me with a rental property and anticipated all of my needs. I find him very efficient. He was easily accessible to work around my busy schedule. "
- Carl G | Client since 2005

---



" What I like about DWM Properties Inc. is they tend to stay on top of changing trends and technology. Most recently they teamed with a property management system to help them "Go Green". We are seeing this more and more with a number of companies in Silicon Valley and at DWM Properties Inc. not only are they saving resources we can actually see everything regarding our property on one page. The staff at DWM are very helpful and will keep me posted on all activity. I certainly would recommend them. "
- Craig H | Client since 2004
View All
Frequently Asked Questions
Q: Who pays for water, electricity, and gas?

A: Tenants will transfer the utilities into their name during their tenancy. Typically this includes Water, PG&E, and Garbage, unless stated otherwise by your property manager. In San Jose the garbage bill will need to stay in the owners name so the tenants will pay this fee in addition to the rent to management each month. Gardening and pool service is usually paid for by the owner.
Atherton Area Information
---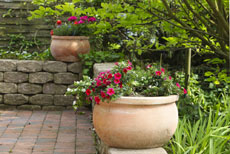 In 1866, Atherton was known as Fair Oaks, and was a flag stop on the California Coast Line of the Southern Pacific Railroad between San Francisco and San Jose for the convenience of the owners of the large estates who lived north of Menlo Park. The entire area was called Menlo Park. It had been part of the Rancho de las Pulgas that had covered most of the area, which is now southern San Mateo County. There were several attempts to incorporate Fair Oaks, one in 1874 and another in 1911.

In 1923, Menlo Park wished to incorporate its lands to include the Fair Oaks lands. During a meeting of the representatives of the two communities, it became clear to the Fair Oaks property owners that in order to maintain their community as a strictly residential area, they would have to incorporate separately. Both groups rushed to Sacramento but the Fair Oaks committee arrived first. It was at that time they realized that they could not keep the name Fair Oaks, as it was already the name of a town near Sacramento. It was decided to honor Faxon Dean Atherton who had been one of the first property owners in the south peninsula and name the Town for him. Atherton was incorporated on September 12, 1923.
Areas We Service
---